Who is plcombs?
Peter L. Combs of plcombs was born in 1954 and raised in the coastal town of Marblehead, Massachusetts on Boston's North Shore. Marblehead is a world renowned port for recreational sailors and quite possibly one of the most visually quintessential of all New England towns. It's historical roots go back to the early colonial era of our country—it was both home to signers of the Declaration of Independence and is recognized as the birthplace of the American Navy. During Peter's childhood, Marblehead still staunchly supported the preservation of Yankee values and way of life.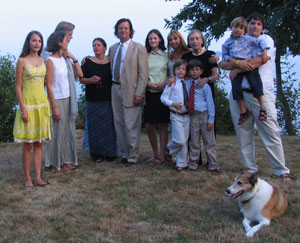 Today, Peter and his family live a short sail up the coast from Marblehead on a quiet, short street that dead ends on the ocean in the spectacularly unique, coastal city of Gloucester, Massachusetts on Cape Ann ("the other cape"). Kids still ride bikes to the beach, their favorite fishing spots, swimming quarries or to the ball fields in neighborhoods where half the doors in town are still unlocked. The ocean and shorelines are as familiar a play yard to kids here as a grassy playground is to kids from other rural areas.
After nearly 18 years as an appraiser, auctioneer, and partner at Landry Auctions in nearby Essex, Peter decided to open his own business and gallery in downtown Gloucester. Prior to joining Landry's, Peter was an antiques dealer and had found many great items in Gloucester's many antique and secondhand stores. Additionally, Gloucester has been a destination for artists, fishermen, art galleries, and inventors throughout its history so it was both an ideal place and a natural choice for the headquarters of
plcombs
.
plcombs does have a particular focus on antique, Asian works of art. We buy and sell in a variety of mediums and categories that include early ceramics, bronzes, bamboo, lacquers, paintings, screens and items from the China Trade era. We always have on hand a good selection of Chinese porcelain, ceramics and other Far Eastern ceramics including fine estate examples from the Sung, Yuan, Ming and Qing dynasties as well as Japanese Imari and Arita wares.
Please browse our inventory for celadons, monochromes, Famille Enamels, Blanc de Chine, blue and white porcelains and ceramics. We also sell on eBay under the plcombs user name (it keeps things simple) as well as here. Whenever possible we do acquire Mark and Period Imperial and non Imperial pieces including Wanli, Kangxi, Yung Cheng and Qianlong examples.
Additionally at plcombs, we buy and sell a variety of fine antiques and art ranging from Americana, Marine, European and Decorative Arts as well as paintings and prints. We also feature some fine local, living artists of the Cape Ann School. After all, all art was new once and man does not live on Chinoisere alone!
If you have any questions, please ask. If you are building a collection(s) and need something special or maybe even something astoundingly great, send us a note or call. You can always reach us
by email
.
Welcome to the site. Please browse, ask questions, tell us what you like, and do have fun.